Jeff and I are feeling lots of love after a wonderful baby shower hosted by Amy and Colin. Their backyard was the perfect backdrop for the party.
The food and drinks (non-alcoholic mojito for me!) were tasty...street tacos prepared by a an experienced taco maker, cheese dip, salsa, no-onion guacamole especially for onion haters (OK, just me), fruit salad, lemon cupcakes, and chocolate bunt cake.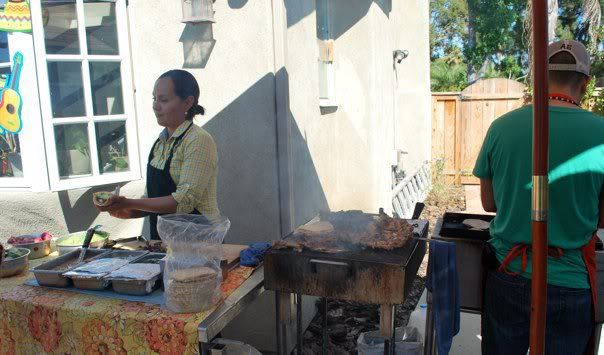 Amy planned a bunch of baby shower games to properly display everyone's true talents. Dr. Courtney can easily distinguish rice from a safety pin (phew!), Pat's water broke without a mess, Bridget and Val have an eye for how big around I am, Betsy knows the title and artist to every popular song with the word "baby" in it, and Val was able to travel back in time to figure out what we all looked like as babies. Each guest was invited to showcase their artistic abilities using colored sharpie markers and a white onesie as a canvas. Let's just say we have some very creative and clever friends. She'll be the best dressed baby on the west coast:)
When it was time to open gifts I could tell Jeff was feeling a little overwhelmed. I think he's just use to his big pregnant wife getting all the attention (you can't miss me)! As all the gifts were being opened we felt really spoiled. We got everything we need for this little girl and TONS of things we wanted! I cannot express enough gratitude and appreciation for the things we received. Jeff continues to be in disbelief as we stare at the pile of amazing gifts.
THANK YOU EVERYONE for being a part of our lives. We are very excited for this new time in our life and are so lucky to be able to share it with you! Lots of love!