I have been known to celebrate my birthday for at least a week. Aunt Val celebrates for close to two weeks and Auntie Kim is always celebrating! It only seems fitting that Leila should be celebrating her 1st birthday all month long.
Leila has already received two birthday presents to kick off her birthday month. With each present she is getting better at the unwrapping part. I expect her to be a pro by the big day.
We've been practicing how to sing and blow (that's what my family calls it) with her new Happy Birthday Cake toy from Krista.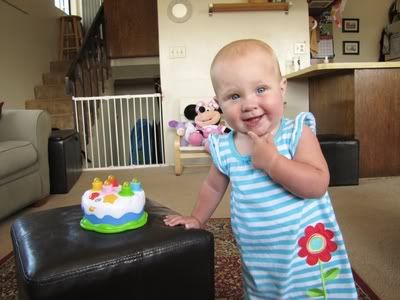 This cake is too cute and the tune is too catchy. (I am singing the counting song in my head right now.)
Here's to a month of celebrating Leila!!!