Projects are my thing. I need to feel like I am useful, especially with my new (maybe temporary) role as a stay-at-home mom.
At the beginning of the month I came across a link on
Pinterest
that caught my eye.
Living in a miniature two bedroom apartment (with no garage) is a challenge. Everything must have a place and I am determined to not be over-crowded with things. (Those of you that have seem my place know that we are stuffed to the max!)
I decided this would be my new project:
Thanks to Kelly over at
The Complete Guide to Imperfect Homemaking
I have organized our entry way, the pantry, two closets, my daughter's toy boxes, my creative supplies, Tupperware cabinet, and the gift bag tub/box.
I even got Jeff on board! He worked on organizing the attic, purged some clothes, organized his drawers, and is starting to tackle an outdoor project. I love when he buys into my organizing frenzy.
The only project I photographed was the gift bag tub. (And didn't even take a real "before" picture.)
Before: All the gift bags were in the turquoise tub squished on top of each other and the ribbons were scattered about. When I would look for a gift bag, I stuck my hand in the tub, lid half off (because it was overflowing with gift bags), and grabbed the first non-baby bag I saw. Ribbons...forget about it.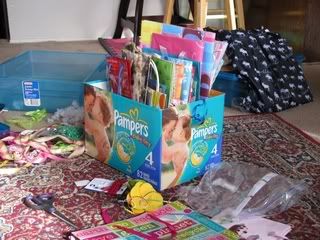 After: I sorted the bags and recycled the overused ones. I placed them in the diaper box so I could easily flip through the bags to find exactly what I was looking for. I wrapped the ribbon around folded index cards and into a plastic baggie.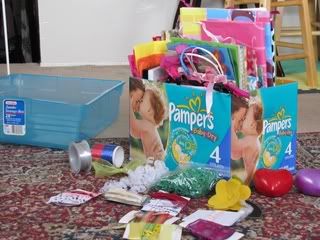 Simple. Easy. Not super awesome.
What about you...what are your newest projects?