I never thought about whether or not the sunscreen I bought was safe. Heck, I assumed I was being safe just by using my SPF 30+ sunscreen daily, a vast improvement from my tanning oil days.
But after reading a blog post written about a local mom's
sunscreen stresses
, I too got a little stressed out.
I read through the Environmental Working Group's Sunscreen guide, and apparently my stress was warranted. Their
"Hall of Shame" list
convinced me to ditch the sunscreen I was using on Leila, sunscreen full of hormone-disrupting chemicals.
That was only the first step. Next up was more reading and eventually choosing some sunscreen products to test out in this San Diego sun.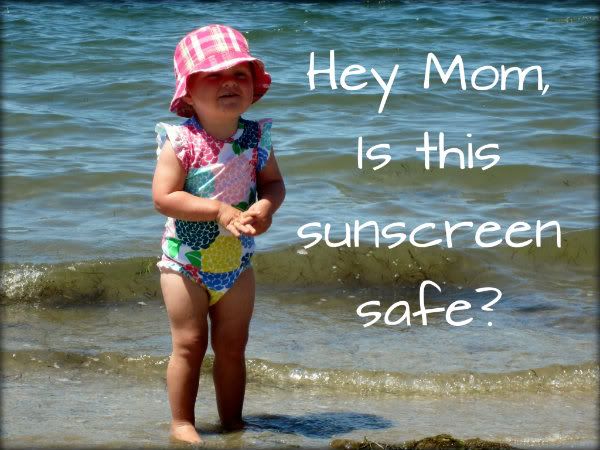 The Environmental Working Group posted this on their
Facebook page:
EWG researchers assessed about 1,400 products with SPF, including beach and sports lotions, sprays and creams, moisturizers, make-up and lip balms. The 39 beach and sports products that earned EWG's coveted "green" rating for safety and efficacy all contain the minerals zinc or titanium. We could find no non-mineral sunscreens that scored better than "yellow."
So what does it come down to?
Pick your sunscreen "poison": nano-materials or potential hormone disrupters.
I chose three
chemical-free sunscreen
products to try, based on the
EWG's 2012 rating
, affordability, and availability:
1.
Adorable Baby SPF 30+ Sunscreen Non-Nano Zinc Oxide UVA/UVB
Each sunscreen I chose scored a rating of 1.
They all ranged in price from $13-$22 depending on the size.
All three sunscreen products are available on Amazon and one can be picked up at our local grocery store.
In search of the perfect sunscreen
(if there is such a thing)
,
I have been using these products on Leila and myself for the past two weeks.
Click here for the results.
Do you have any sunscreen you would personally recommend?