My cat, Otis, is not a fan of Leila. He rarely makes an appearance when she is awake in the house. When he does, it's to eat or take care of business.
Poor kitty. He wasn't always like this. Otis always seemed to be hanging around the house with me...until we brought the baby home.
Otis is afraid of Leila. Although I'm not surprised, I am annoyed. Wouldn't you assume that your pet, that loves attention from you, would also love attention from your child?
Leila tried, the minute she could move, to pet Otis. That's what cats like, right?
He's always been able to outrun her. He runs under the bed, in the fireplace, or anywhere just to get away from her. On many occasions he has tried to stand strong and show Leila who's boss. He's hissed and growled at her for coming too close. (We are teaching her to hiss back.)
Honestly I don't know what he's so scared of...
Look at him.


Freaky cat eyes
Alright, maybe she will be able to outrun him eventually.



Were you hoping for an adorable post about babies and pets?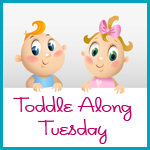 Big news...I will be co-hosting an upcoming Toddle Along Tuesday! The link-up will be opened Monday night, August 13th and the topic is Finding Balance. What do you do to stay sane in your crazy busy life? Come back in two weeks to share your tips and link up!