Everyone wants and most definitely NEEDS balance in their life.
No matter what you do each day, there never seems to be enough hours to do everything you
really
want to do
. (Trust me, it seems like there are
plenty
enough hours spent doing things I'd rather not do
.
Dishes top that list!)
What tops my list of things I
want to do
? How do I find balance in life?
I stay sane by...
drinking red wine or a crisp wheat beer.
working out regularly.
making lists and crossing off one item at a time.
hanging with the girls (or Jeff) sans Leila.
skipping the chores for a week.
reading, writing...blogging.
ditching my meal plan and heading out to dinner.
listening to music and signing along.
taking a nap instead of doing what's on my list.
...and it doesn't hurt that I live here.


How do you find balance in your life?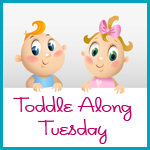 This week's Toddle Along Tuesday topic is finding balance! How do you maintain a sense of balance in your life? Any tips to share?
Share your tips in the comment section or link up a relevant blog post (old or new). Then, visit the linked blogs to read about how others are Finding Balance in their daily lives.