After a lot of trial and error, I have found a daily routine that works for us. I also happen to LOVE it.
I realize it won't last forever, so here's a peek into what goes on around here!
Lazy wake up
Some days Leila wakes up at seven, other days it's eight. I love the mornings that I wake up before Leila does. Although it rarely happens, those few minutes with my coffee and computer really make me happy. I wonder if I will ever
purposely
wake up before her?! I'll never say never.
Jeff is up and out the door by 7:30, but is lucky to have a flexible work start time. His mornings are not quite as lazy as he'd like.
Milk and cuddles
Just like it sounds, most days. Other days it's straight in the highchair for breakfast so we can get out the door earlier.
Breakfast
I cook, we eat. She makes messes, I clean up. Rinse and repeat.
Get dressed
Some days I get ready before Leila wakes up, other days she hangs out and watches. We
always
wait to get dressed until after breakfast. You just never know.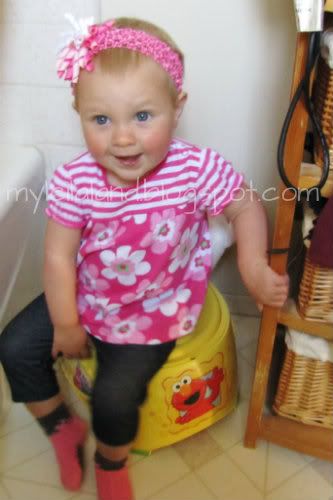 Out the door for "adventure time"
We've expanded our short list of favorite activities. I still love lazy days at the park, and make it a priority to go every Friday. On Tuesdays we play and learn with Teacher Lee, and the local library has toddler programs on most Thursdays. That leaves Mondays and Wednesdays open for whatever we feel like doing. I
try
to keep this time
all about Leila
but some days we just have to run an errand or two.
Snack
Lunch
Some days we eat at home, other days we pack a picnic lunch. Can you guess which one I prefer? Picnic all the way. More prep, less clean up.
12:30 Nap time
Notice that this is one of the few things I mentioned the time? That's because no day is the same, or that predictable. But, the one thing that I watch the clock for is sleep! Leila is a great sleeper and I credit the sleep schedule she has been on for over a year. Don't mess with nap time!
Lazy nap wake up
Some days Leila naps for two and half hours, other days it's over three hours long. Either way...I love, need, cherish, and look forward to this break. It allows me to exercise, shower, do some daily chores, blog, email, bake, prep dinner, etc. Not ALL of these things everyday! More like three, maybe four things get done, hopefully.
Milk and cuddles
Snack
Afternoon play
Since the weather is getting warmer and the days are getting longer I'm trying to get us out more in the afternoons (yes, this time errands count!).
Leila likes playing at home too. We listen to music, play with her toys, build with blocks, read, take a bath, watch a show, dance, or even do some arts and crafts.
Eventually I have to start dinner. This is what Leila does...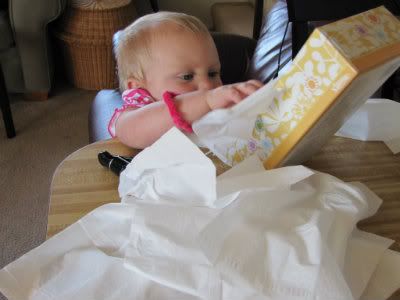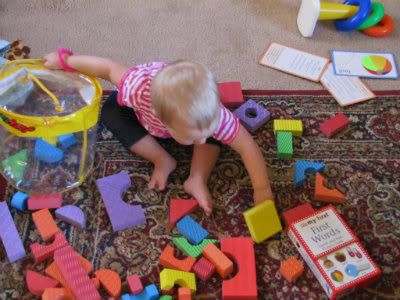 Everything ends up everywhere.
Dinner
After Jeff comes home and settles in, he plays with Leila and I cook dinner. I aim to get the food on the table by 6:30. Some days we go out for dinner (Friday night pizza, anyone?). Most days I make Leila-friendly meals and she eats them, other days she gets pb & j.
7:30 Bed time routine
Jeff puts Leila to bed on most nights. They read, say good-night to things around the room, and then into the crib she goes with her pacifiers and stuffed animals. Leila loves her crib (which means I love it too)!
Once dinner is cleaned up, coffee is ready for the morning, and I've marked enough things off my list for the day...
I grab a second glass of wine (some days it's the third) and relax.
Cheers to another day!
Wondering how our days have changed over the last few months? Check out a
similar post
I wrote when Leila was sixteen months old.
I'm linking up again this week with Mama G over at Growing up Geeky. This weeks's topic is
A Day in the Life
. Link up here...