Second dates are fun. Third dates are exciting!
I wrote about our
first play-date
with our new found friends. I was worried about being myself around her, you know, because she's a mom.
Then I realized...
I'm the one who feels like I should have it all together. I'm the one judging me.

Really, all moms are way too busy chasing the kids around, making snacks, and cleaning food off our butts to care what the mom next to us is drinking at night.

So here's to being yourself...It's really all you've got.
I was right.
We had a wonderful third play-date at the zoo! Our kiddos were on the same page the whole trip. We stopped for snacks, took our time, and played in random spots along the way. It was easy.
Guess who would rather play in the dirt than see the elephants?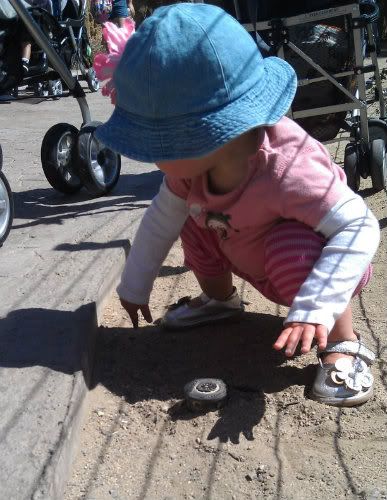 Leila!
I did hold myself back a little bit.
Mom-friend didn't need to know how hilarious I though it was to see a
very excited
male zebra. However, I did mention that I can't lose these last five pounds because I drink wine every night.
We'll see...