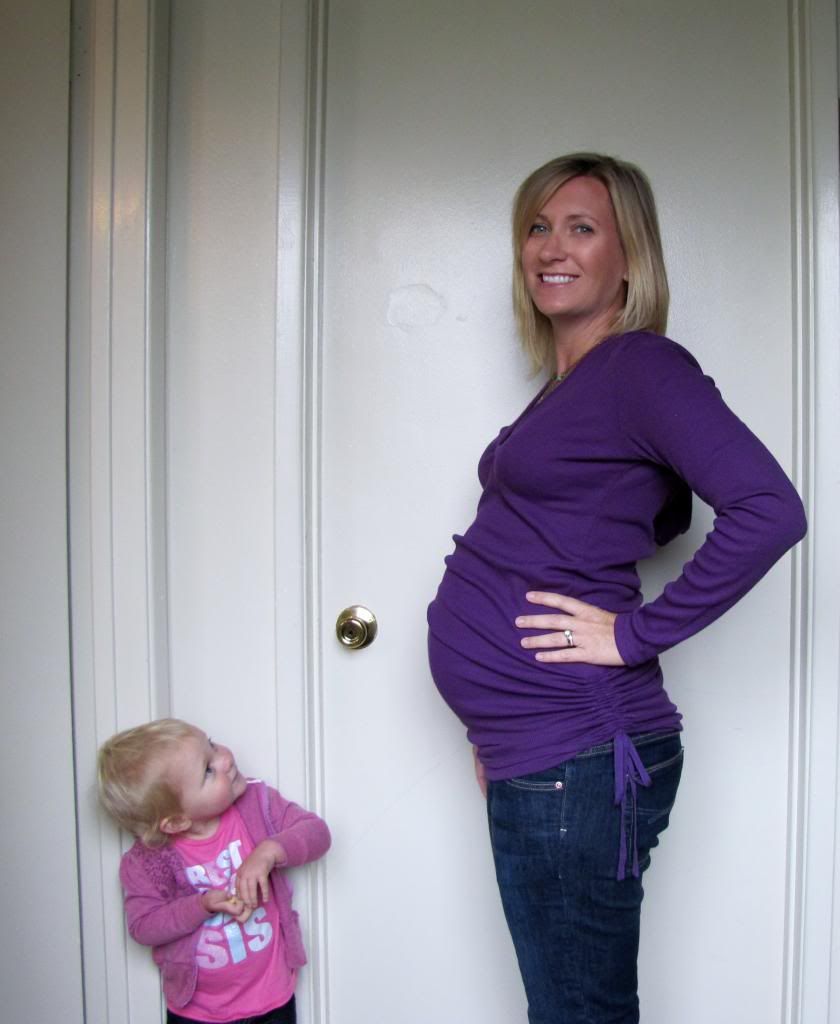 How far along:
25 weeks!
Weight gain/loss:

Are you kidding me?!? I am not crazy enough to jump on the scale the week after my anniversary and Thanksgiving.
Feeling:

Big. I am really in for it...I know what's coming!



Maternity clothes:

Yep! I am well stocked. I finally discovered a practical use for a belly band too. I use it to help hold up my over-the-belly maternity jeans (shown in the picture). Since they have no real waist, I always feel like they are slipping down even when they aren't. They are now more comfortable this way.





Stretch marks:

Nope.





Sleep:

I am tired again. Already.





Best moment(s) this week:

So many! Our anniversary dinner was

delicious, as was the Thanksgiving feast. It was great to finally meet baby Max and hang with old friends (his parents). Finally, Jeff and I took Leila to the zoo on Sunday. Like I said before, it is so nice and stress-free when there are two parents around!
Food cravings
:
Anything will do the trick, but everything will give me heartburn.
Gender:
It's a boy!
Movement:
He moves around the most right after I eat. Still little pain-free movements. :)
What I miss:
Feeling
comfortable
sitting on the floor. Wine.
What I'm looking forward to: I have a routine doctor appointment on Friday. I love the check-ups!
Weekly wisdom:
I am pregnant. It's okay to feel fat, be emotional, and take it easy once in a while.
Milestones:
He's the size of a cauliflower and now has a sense of
equilibrium. He knows which way is up and down...pretty cool!
Due date: 3-13-13