I know, it's not even November yet, but you better believe I've already been doing some Christmas shopping!
All year I keep a list on my phone titled "Gifts". When I hear a family member or friend mention something they like, I add it to the list. When I think of something Leila would like or read about a product online, I add it to the list. This makes shopping way less stressful during the holiday months.
Leila's wish list
was wiped out after celebrating her 2nd birthday a month ago. Our house is stocked with toys, but I know by Christmas she'll be ready for a few new items. I'll be especially looking into more items that allow for her to play independently. That's going to be necessary after her baby brother is born.
Toys for toddlers


Art supplies for toddlers


Clothing
More toddler gift ideas
Stocking Stuffer ideas for toddlers
Electric toothbrush
Play-dough
Stickers and tattoos
Winter hat
Teeny-tiny hair bands for her
almost
-piggy-tails
Coloring book
So, I may have gone a little overboard! We won't be buying her all these things...
it's called a wish list for a reason!
I have a feeling this list for my two-year old, Leila, will be growing after I read the other linked up posts for this week's Toddle Along Tuesday.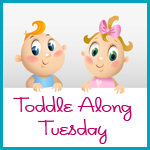 What is on your child's holiday wish list this year?