It's easier than you think, not nearly as messy, and more fun than you imagine. Over here at Leilaland, we keep it simple. The projects we do are kid-centered and even the least crafty mom can implement them successfully.
Following these simple tips will make painting with toddlers a breeze.
Choose two primary colors to paint with and the color they make when mixed. This way your child's project will not turn out a muddy brown color. Sometimes I add white paint into the mix if we're not painting on white paper.
Choose simple painting tools. I like to use Q-tips, sponge tipped brushes, or fingers. Traditional paint brushes can be tough for little hands to manage because they usually have a long handle. Brushes also require a light touch or your child will end up smashing the brush part down and painting with the hard handle resulting in torn paper.
Model how to use the painting tools. Show your child what you expect them to do. Show them what happens when you mix the colors and model different ways to use the painting tools.
Use large sheet of paper. You can see print (or draw) a large simple shape for them to fill in or have they paint a plain piece of paper and cut it into the shape you want after it's dry. (Check out our Lucky Shamrocks here.)
Remove your child's clothing and put on a smock to protect their skin (and avoid an immediate bath).
Lower your expectations. Your child's paining will not be perfect. They will get a bit messy. They will paint out of the lines. They may be finished in 5 minutes or love painting page after page.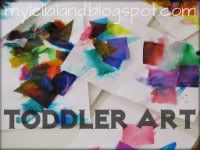 Have you had success painting with your toddler? What tips can you share with me?